Is it time to upgrade your Fire Alarm system? Or do you need to install a new Fire Alarm system?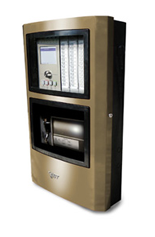 As a strategic Edwards Fire Alarm Partner and UL listed Company, you can be assured that your will receive quality installations, thorough inspections and timely service.
We have Commercial Fire Alarm systems to meet each and every application and a solution that will fit your budget.
Capabilities of Edwards:
UL approved Edwards Addressable Fire Alarm panels and devices
UL 268 approved Edwards Optica Smoke Detector which reduces nuisance alarms
Energy efficient LED Notification devices allow for shorter wire runs and fewer Booster Power Supplies
Built-in Dialers for 24/7 Monitoring
Intelligent Smoke & Duct Detectors that communicate directly to the Fire Alarm panel reporting their status (If one Smoke or Duct Detector fails, everything else will still function properly)
Ability to provide Fire Alarm, Mass Notification & Building Integration
EST4 & EST3 have Voice Evacuation capabilities to meet changing requirement for Audio in Schools/Colleges
Sensitivity Reports can be run right from the Fire Alarm panel to meet Inspection Requirements
Hyper Strike Speakers for Mass Notification, perfect for College Campuses and Industrial facilities
Now able to provide Emergency Response Communication Enhancement Systems for Public Safety and First Responders
UL approved Fireworks Incident Management Platform works as a single-seat monitoring & control system for stand-alone & expansive Campuses
Why Fire Alarm Service Team?
When property owners decide to do business with an Edwards Strategic Partner like Fire Alarm Service Team, their investment is underwritten by a solid 140yr history of dedication to alarm and detection technology.
An approved Edwards (EST) Strategic Partner
Licensed State of Michigan Fire Alarm Company
N.I.C.E.T. Certified
UL Certified Company
For additional information about which Edwards panel is right for your needs, please call us direct @ (810) 229-8500.
Brochures: